Mallalieu Engineering - Worked on the first electric-petrol
hybrid, Microdot. This 1978 Mallalieu-Bentley sports model
used a tad more fuel than Microdot.
In February 2017, I wrote a brilliant 10,000 word paper on clearing the roads and reducing pollution from transport, The Economics of UK Road Transport. The prize went to a proposal for Road Pricing; banning poor people, the great unwashed, the hoi-polloi, from using the public highways; which we wealthy citizens will greatly welcome; giving us The FREEDOM OF THE ROADS.
My paper says that Road Pricing is a retrograde step back to medieval toll-roads, and will require huge investment into spy cameras, electronic surveillance of every personal journey, will record every broken law from jaywalking to speeding, and require huge debt-collecting after journeys; or pre-payment of e.g. emergency visits to hospital. It is Monetarism, Aristocracy and Orwell's 1984 write large. A very bad idea.
However, central to my eight recommendations to clear the roads, is the forecast that electric vehicles are coming, fast and furious, to sweep the internal combustion engine into history. Which is a pity, as my car and millions of other vehicles have just about reached the peak of engineering perfection. I have street-cred on this issue, because in 1980 our team at Mallalieu Engineering squeezed running gear into William Town's lovely design for a petrol-electric hybrid, Microdot - and proposed mass production under the name of Matrix. This would have put the UK 30 years ahead of TESLA and others, but the UK government quashed the project - as The Oxford Mail reported a few weeks ago. (NB - Very bad photo. I'm far more handsome and younger looking).
But, I am happy to see electric cars now, at last, on the roads. There are several beautiful TESLA's in Oxford and I am convinced that TESLA will succeed, as old car makers like Ford compete and try to unload "hybrids" on the unsuspecting public, to use up their clunky petrol/diesel inventories before designing real-electric cars. I am also convinced that TESLA has the lead on modern batteries - and will make a large fortune from that side of their business, churning them out from the TESLA mega-factory. So I bought TESLA shares - which are doing very well.
Despite the owner, Elon Musk, increasingly hysterically warning investors that his little TESLA company is not worth as much as massive General Motors - the shares have risen on hope, green-prayers and cussed ignorance. Now, this week, they are at last going down, dropped 20%, going back to levels that might reflect reality for a young company that hasn't yet made a profit.
What will I do? I'm holding my shares. I think visionary Elon will come through. I think the competition is a long way behind, and I think TESLA will be the next Microsoft or Apple. Buy Now to Avoid Disappointment. But, I'm not an investment adviser, so read the media below - and make up your own mind.
PS - What I omitted from my paper - as it was already far too radical for elderly competition judges - is the very best idea - to
Tarmac the Railways
. The rails are empty 95% of the day and link the centres of all cities and many towns. Coaches, Trucks,Vans and Cars will make much better use of those Victorian super-highways.
uk.reuters.com/article/us-tesla-china-idUKKBN19D16I

22 Jun 2017 -

U.S. electric-car maker

Tesla

Inc has reached a preliminary agreement with Shanghai to explore production in the Chinese city,

Bloomberg

reported on Thursday, citing people familiar with the matter. ... #Technology

News

.
in.reuters.com/article/us-tesla-china-idINKBN19D16I

22 Jun 2017 -

U.S. electric-car maker

Tesla

Inc has reached a preliminary ... to explore production in the Chinese city,

Bloomberg

reported on Thursday, citing ...
https://www.reuters.com/finance/stocks/overview?symbol=TSLA.O

Tesla

, Inc., formerly

Tesla

Motors, Inc., designs, develops, manufactures and sells ... raced to lock in relatively higher returns. Aug 11 2017. » More TSLA.O

News

...
ca.reuters.com/article/businessNews/idCAKBN19A30C-OCABS

#Business

News

. June 19, 2017 / 3:35 PM / 2 months ago.

Tesla

close to agreement on first production plant in China -

Bloomberg

... (

Reuters

) -

Tesla

Inc (TSLA. ... to the world's largest auto market,

Bloomberg

reported, citing people familiar ...
www.reuters.com/article/us-tesla-china-idUSKCN0Z629Y

20 Jun 2016 -

(

Reuters

) -

Tesla

Motors Inc (TSLA.O) is eyeing Shanghai for its China production base in an investment that could be worth about $9 billion, ...
https://www.bloomberg.com/news/.../germany-giving-gigafactory-a-home-in-latest-ch...

2 Aug 2017 -

German executives are preparing to announce a new home for a lithium-ion battery plant designed to rival the output at

Tesla

Inc.'s Gigafactory.
www.themalaymailonline.com/.../reuters-video-tesla-hands-out-key...
30 Jul 2017
Tesla

Chief Executive Officer Elon Musk revealed advanced orders for the lower-priced Model 3 ...

Reuters

...
www.themalaymailonline.com/.../bloomberg-video-tesla-revs-up-b...
11 Aug 2017
... Ahmed has more. —

Bloomberg

| Watch The

News

| Malay Mail Online. ...

Reuters

Video: Tired of daily ...
https://futurism.com/the-rumors-are-true-tesla-wants-to-build-a-gigafactory-in-china/

23 Jun 2017 -

Rumors that

Tesla

is looking to establish a firmer foothold in China by ... First, China Daily shared the

news

, then both

Bloomberg

and

Reuters

...
https://www.youtube.com/watch?v=nuIhOsTSo8o
4 Jul 2017 - Uploaded by Tesla Fly
Quelle:

News

Report

Reuters

This Channel is collecting Reports and Interviews about Elon Musk ...
Searches related to Tesla news - SKY NEWS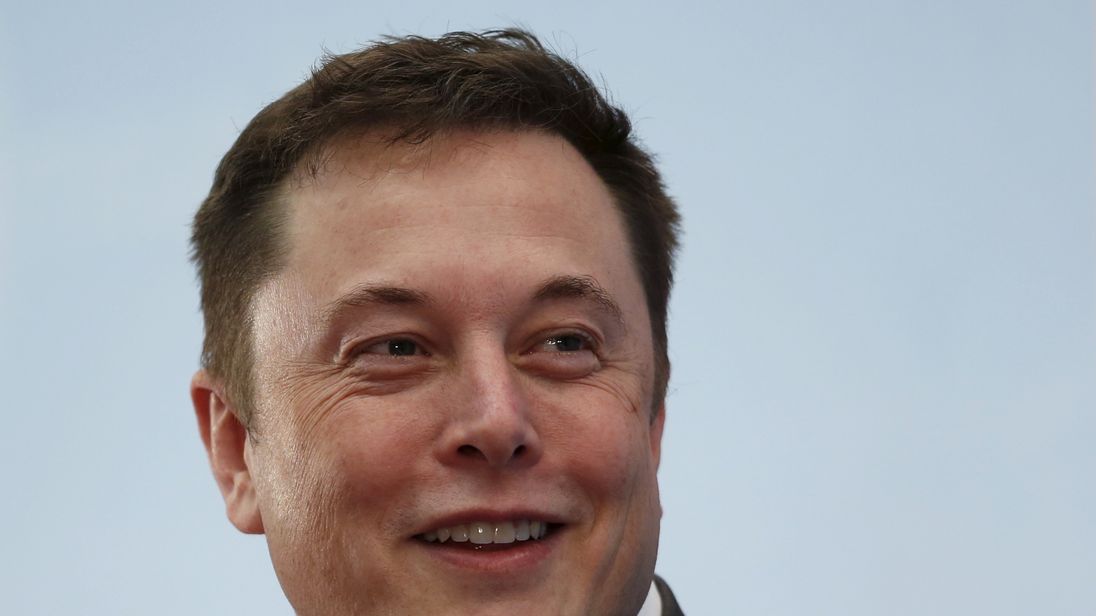 Elon Musk has managed to win a $50m bet by building the world's largest ever lithium-ion battery.
The billionaire chairman and chief executive of Tesla has delivered a renewable energy project for South Australia, building the world's largest ever lithium-ion battery.
At the time Musk made a bet, saying Tesla would get the battery installed and working within 100 days of the contract being signed or the $50m (£37m) system would be free.
This deadline was due to expire on 1 December, ahead of which state Premier Jay Weatherill has announced that the project had been completed.
The battery will store energy from a nearby wind farm run by the French renewable energy company Neoen.
"South Australia is set to have back-up power in place this summer through the world's largest lithium ion battery, which is set to be energised for the first time in the coming days as it enters a phase of regulatory testing," Mr Weatherill said.
Musk tweeted: "Congratulations to the Tesla crew and South Australian authorities who worked so hard to get this manufactured and installed in record time!"
As a maker of electric automobiles, Tesla has also invested heavily in energy storage and solar panel technology - and it believes its technology could develop far beyond vehicles and supply power to the grid.
The deal has seen Tesla manufacture a 129MWh battery in Jamestown, a town with a population of less than 1,500 people, just over 120 miles north of Adelaide.
"This is not a minor foray into the frontier," said Mr Musk at the time.
"I'm pretty darn impressed with South Australia willing to do a project of this magnitude that is beyond anything else in the world.
"That takes a lot of gumption," he added. "I do see this as something that the world will look at as an example."